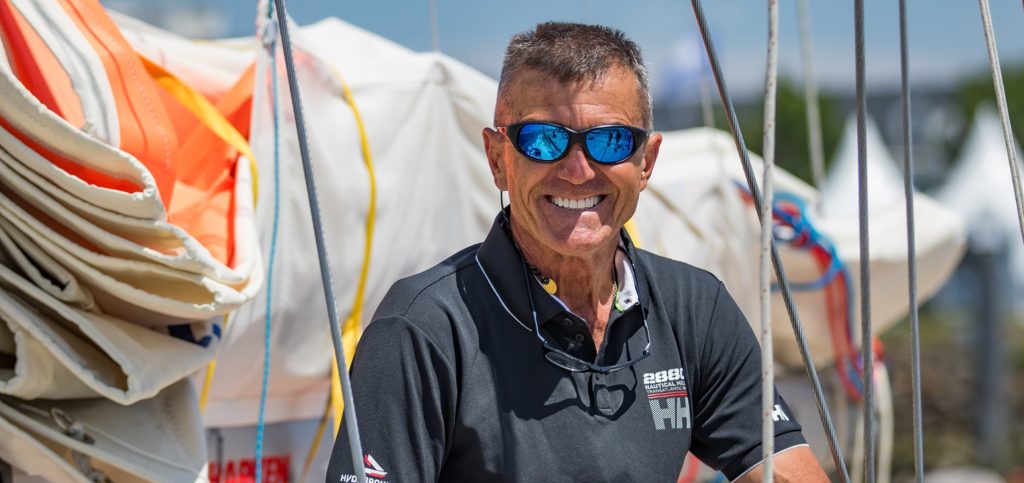 Istvan Kopar was born in Budapest, Hungary, in 1953. Despite growing up in a landlocked country behind the Iron Curtain, Kopar was determined from a young age to be a sailor and a circumnavigator. At age seventeen, prior to attending college, he joined the merchant marine to learn about the sea. He worked for MAHART (Hungarian Shipping Company), from 1971 to 1984. Kopar traveled the world over the course of his career, and has stated that he "lost count after visiting over 100 different countries."
Kopar has worked as a naval officer, sailing racer, and instructor. He started his own marina/charter operation and sailing school in Europe in the 1980s. He served as one of the operational managers of the biggest vessel recovery company in the U.S. from 2000 to 2010. He has taught at Sea School, Fort Lauderdale, and is an instructor trainer for U.S. Sailing. He is also a USCG-licensed commercial captain.
Kopar's proudest accomplishment to date was his solo one-stop circumnavigation of the globe, 1990-1991. He built his own boat for the voyage, Salammbo. Due to his shoestring budget, Kopar sailed without GPS, autopilot, radar, a water-maker, or any heating device. He was forced to rely on the use of a sextant and manual plotting for determining his course, and upon Morse code for weather forecasts. His first book, Kihivas ("The Challenge"), details his adventures on this voyage. After Kopar returned safely home, Salammbo was exhibited at the 1992 World Expo in Seville, Spain, alongside a replica of the Santa Maria, and the U.S. Space Shuttle Discovery.
Kopar holds a Bachelor of Science in Maritime Studies from the Technical University of Budapest, as well as a Bachelor of Science in Economics/Foreign Trade from the College for Foreign Trade at Budapest. He is fluent both in English and his native Hungarian. Kopar moved to the United States in 1994, and became a naturalized U.S. citizen in 2000. He has two adult children, and currently lives with his wife in Boca Raton, Florida.
Please visit Istvan Kopar's business site at globediscovery.com.
Solo One-Stop Circumnavigation
(July 1990-May 1991)
Sailed solo around the world from Gibraltar to Gibraltar, via the five southernmost capes, stopping only once, in Perth, Australia

Earned the world record circumnavigation speed of 125 n. miles/day in the category of his boat size, which was homemade and only 31' in length

First Hungarian one-stop solo circumnavigator, first one to circumnavigate via five southernmost capes
America 500-Columbus Race
(Aug. 1992-Dec. 1992)
Finished the trans-Atlantic race 2nd place in his category (sailing 31′ sloop Salammbo), and 19th overall in the fleet of 146 boats

Part of the only double-handed boat to finish race

First Hungarian in an Atlantic-crossing race
Atlantic-Crossing Rally for Cruisers
(1995)
Winner of the Kapry's Trophy for the ARC '95
Blue Water Boat Deliveries
June 1993-September 1993: Crossed the Atlantic Ocean solo, covering the leg from Miami to Horta (3,000 n. miles) in 20 days with a 31' sloop

February 1995-April 1995: Solo-sailed the U.S.-flagged Sealestial (37′ Crealock) from Durban, South Africa to Savannah, Georgia, USA, passing the Cape of Good Hope westbound. This trip was 65 days long and had only one stop.
Hong Kong Challenge Round the World Race
(1996-1997)
Sailed around the world once more, this time as captain of the Mol-Hungaria 1100 (Tripp 55')

Winner of the Sir Edward Heath Trophy and the Financial Times Clipper Trophy, awarded respectively to fastest captain and team in the Hong Kong Challenge

First Hungarian sailor to organize a Hungarian team in a Round the World Race

First Hungarian skipper to lead a Hungarian team to victory in a Round the World Race
Completed his third circumnavigation, second solo circumnavigation, and first nonstop solo circumnavigation

Finished in 4th place after 263 days at sea

One of only 5 sailors to complete the grueling race, which started with 18 skippers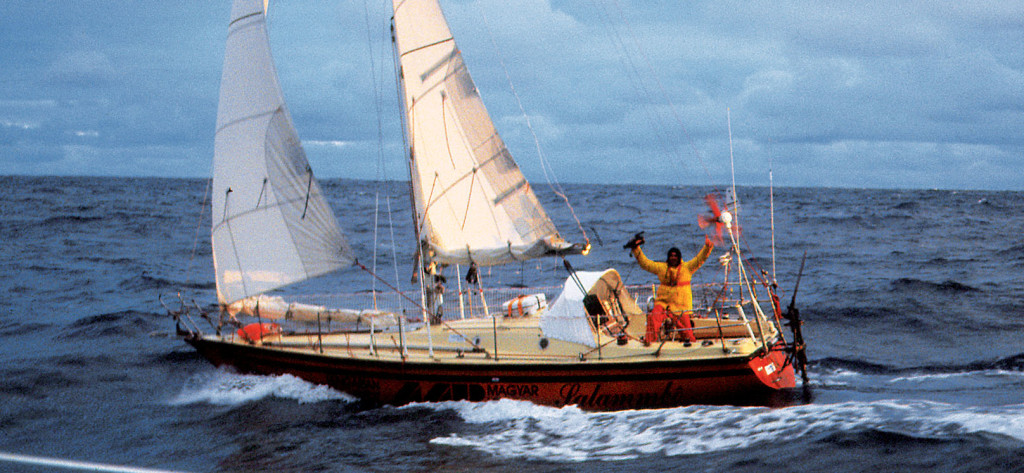 Received in Perth by the First Lady of Western Australia during the only stop of his solo circumnavigation, 1990

Received by King Juan Carlos and Queen Sofia in Spain in honor of his participation in the America 500-Columbus Race, 1992

Received by Carla Hill, representative of U.S. President George H.W. Bush, at the White House in Washington, D.C., 1993
Chosen by Mayor of Genoa to sail the town's flag from Columbus' birthplace to the New World during America 500-Columbus Race, 1992

Chosen to deliver the original facsimile version of the first printed map showing the American continent (Munster Map, 1541) to the White House as a gift to President George H.W. Bush
Nominated for the "Blue Water Medal" of the Cruising Club of America, 1994

Awarded the Order of Merit of the Hungarian Republic Middle Cross (highest civilian medal) by Arpad Goncz, President of Hungary, 1997
Named Honorary Life Member of the Hungarian Yachting Association and Hungarian Super Sport Club, 1991

Elected Vice President of the Hungarian Boat Industry Association, 1991-94

Named Honorary Member of British Chamber of Commerce in Hungary, 1998

Awarded the title of "Honorary Citizen" of his hometown, Balatonalmadi, Hungary, 2010
Istvan Kopar's Offshore Sailing, 1990-97