Originally written in Hungarian, "Kihivas" tells the story of world-famous sailor Istvan Kopar as he took on the ultimate sailing challenge: solo circumnavigation. Now fully translated into English, boating enthusiasts will find much inspiration in Kopar's journey and his thoughts on his most harrowing trials, as well as life-saving insights for those brave enough to attempt the same challenge.
San Diego, California, USA – 
WEBWIRE
 – Thursday, February 16, 2023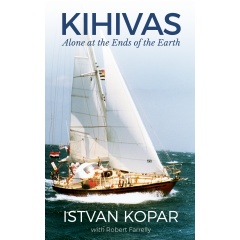 Golden Globe Race 2018 "His account of the epic voyage is a thrilling document which gives the reader a chance to really comprehend and appreciate the enormous achievement of successfully finishing a seemingly impossible project that required an incredible amount of physical and mental strength to overcome all the difficulties and obstacles…"
Since its publication back in 2015, Istvan Kopar's "Kihivas" has won high praise from both readers and sailing enthusiasts alike. Attendees to the recently concluded 2023 LibLearnX: The Library Learning Experience had the chance to see exactly why this was so.
The voyage described in "Kihivas" was no mere yachting trip. It's the tale of one man's lifelong dream of solo circumnavigation, a feat that has only been achieved by no more than 300 sailors in recorded history. The title itself directly translates to "The Challenge" and perfectly sums up the main theme of Kopar's account.
Described as part sailing adventure, part personal reflection, and part ship's log, "Kihivas: Alone at the Ends of the Earth" does not skimp on the details. It begins with how Kopar found his calling as a sailor, despite being born in landlocked Hungary. The story goes on further to describe the construction of Salammbo, the boat he would use to complete his circumnavigation.
Without a doubt, the challenges he faced were numerous as he sailed across the world's vast oceans. It's why the pages of "Kihivas" have made for such a compelling read for all those who picked it up, whether they be sailing aficionados or fans of high-sea adventures. Each chapter richly describes Kopar's time on the Salammbo and the feelings he had during each trial, while also sharing vital information on the best preparations for such journeys. All in all, it's certainly a book that makes for both an educational and inspirational addition to any library's collection!
"Kihivas: Alone at the Ends of the Earth" by Istvan Kopar is available on Amazon in both paperback and Kindle editions. Readers are encouraged to visit the author's website at www.koparsailing.com.
"Kihivas: Alone at the Ends of the Earth"
Author | Istvan Kopar
Published date | 2015
Publisher | Self-published
Genre | Sailing
Author Bio
Istvan Kopar was born in Budapest, Hungary, in 1953. Despite growing up in a landlocked country behind the Iron Curtain, Kopar was determined from a young age to be a sailor and a circumnavigator. At age seventeen, prior to attending college, he joined the merchant marine to learn about the sea. He worked for MAHART (a Hungarian shipping company), from 1971 to 1984. Kopar traveled the world over the course of his career, and has stated that he "lost count after visiting over 100 different countries."
Kopar has worked as a naval officer, sailing racer, and instructor. He started his own marina/charter operation and sailing school in Europe in the 1980s. And from 2000 to 2010, he even served as one of the operational managers of the biggest vessel recovery company in the U.S. He has taught at Sea School, Fort Lauderdale, and is an instructor trainer for U.S. Sailing. He is also a USCG-licensed commercial captain.
Kopar's proudest accomplishment to date was his solo one-stop circumnavigation of the globe, from 1990-1991. He built his own boat for the voyage, Salammbo. Due to his shoestring budget, Kopar sailed without GPS, autopilot, radar, a water-maker, or any heating device. He was forced to rely on the use of a sextant and manual plotting for determining his course, and upon Morse code for weather forecasts. His first book, "Kihivas" ("The Challenge"), details his adventures on this voyage. After Kopar returned safely home, Salammbo was exhibited at the 1992 World Expo in Seville, Spain, alongside a replica of the Santa Maria, and the U.S. Space Shuttle Discovery.
Kopar holds a Bachelor of Science in Maritime Studies from the Technical University of Budapest, as well as a Bachelor of Science in Economics/Foreign Trade from the College for Foreign Trade at Budapest. He is fluent both in English and his native Hungarian. Kopar moved to the United States in 1994, and became a naturalized U.S. citizen in 2000. He has two adult children, and currently lives with his wife in Boca Raton, Florida.