Hello everyone, this is Istvan's team manager writing to update you on recent events. We have been busy on many fronts as we prepare for the 2018 Golden Globe Race. We have already experienced our fair share of frustrations, but no great achievement is reached without challenges along the way. First and foremost, Istvan wants to report that he has made his final payment on the entry fee for the GGR (a total of $11,000 AUD, see receipt below!). This was possible because of the generosity of various donors, in addition to the funds Istvan earned the last two months. Although he was frustrated that this work put his renovations of Puffin on hold for a while, it was all done with the GGR in mind. In the past few weeks Istvan ran 4 US Sailing training courses and 1 sailing counselor course, work which took him from Florida to Connecticut to Shelter Island to SUNY Maritime. He also was hired for a 60-hour solo cross-country drive delivering a 32' RV from North Carolina to San Diego, with no air conditioning the whole way! Following are some entries from my "landlocked ship's log."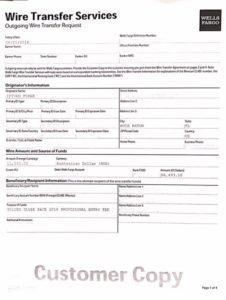 10 May: Sea Hawk Paints announced their support today, becoming our second sponsor!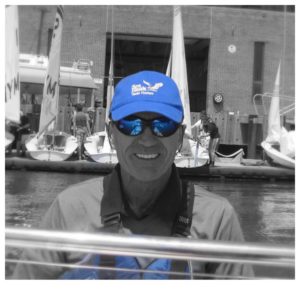 12 May: Istvan flew down to Florida to lead another sailing instructor course. He will return on Tuesday, 17 May.
13 May: Bad news from Istvan in Florida… He was hit by a car in a hit-and-run incident! He had returned to his house in Boca Raton to fix a leak in the roof, and he was riding his wife's scooter to Home Depot for supplies. As he was driving in a roundabout, a car entered at full speed without yielding to oncoming traffic. The driver slammed Istvan into the inside curb and sped off. Istvan landed right on his head, and ended up with broken teeth, an injured foot, and a bruised and bloodied face. Rather than going to the hospital, he drove 200 miles to get to his scheduled sailing instructor course on time. After a 9-hour day of instruction, he went to the hospital to learn that he had fractured bones in his left foot, but fortunately his head CT scan was okay. He completed the course and returned to New York, wounded and limping. This was a major setback for Istvan with much work still to be done on Puffin, and several instructor courses left to teach.
21 May: Good news and bad news today. The good news is that Istvan received a $5,000 donation from a very generous donor, W. Russell G. Byers, who submitted it through Istvan's account with the NY Sailing Foundation. The bad news is that it took the Foundation 5 months to forward the funds to Istvan. Furthermore, he asked them if they could inform him anytime he received a donation so that he would at least be aware of it, and they responded that it would not be possible to do so. We are grateful for the work the Foundation does, but such a situation is untenable for us in our current endeavor.
30 May: Istvan is returning to New York today after another sailing instructor course in CT. He informed me today that his wife helped him to create a new foundation. The Istvan Kopar Sailing Foundation allows anyone to make tax-deductible donations to Istvan's GGR race preparation, and delays will no longer be an issue.
31 May: I put the new foundation on our site today. The marketing representative from Sea Hawk Paints also sent me their logos, which I added to the site.
1 June: Istvan and I spoke about creating a new logo for "Team Kopar Sailing." We will put it on our site and are also planning to sell T-shirts to help raise funds. Today Istvan met with Alastair Smith, the NE regional sales manager from Alexseal Yacht Coatings, and they agreed to be our third product sponsor! They will supply the paint for the topside (above the waterline), the deck, and the interior.
7 June: Istvan and I agreed that we should probably set up a credit card donation pathway on the website. Currently donors have to send checks.
9 June: Good news… Istvan's wife Eva set up an account with Square to enable us to accept credit card donations. I set up a donation page with Square and linked to it from our site.
10 June: Bad news… Eva told me today that several of Istvan's supporters in Europe were not able to donate through our donation link. I confirmed with Square that they only accept donations in a few limited countries. I will have to figure this out all over again… Back to "Square" one (pun intended).
12 June: Eva set up a PayPal account for Istvan's foundation, and I linked to it on our website. Now we just have to hope that it works internationally.
13 June: Today I looked into a few big corporations that Istvan is hoping will sponsor him. They ask questions regarding how many people follow us on Facebook and Twitter, and how many unique visitors we get to our website each month. They want to know that their sponsorship would be worthwhile. This puts us in a tough spot. Do we wait to apply for the sponsorships while we try to build our following? Or do we try to get the sponsorship sooner by applying right away? Also, it's a bit of a Catch-22. With money from a sponsor, we would have more resources to attract a larger following. Yet we can't attract a big sponsor unless we have a large following already! It's a frustrating situation. We have a lot to offer a potential sponsor, but much of the payoff in exposure will not come immediately. It is a long-term investment, and sponsors need to trust that the GGR will be as big as we know it will be! I'm getting to work right away creating a Twitter page for Istvan.
14 June: After only 24 hours, we already have 11 followers on Twitter. Wow! (sarcasm) Please help us build our following on Twitter! 🙂
15 June: Eva got in touch with a friend in Hungary and was able to confirm that our PayPal donation pathway works internationally. Nice to get some good news! Istvan is out at Shelter Island leading another sailing instructor course.
19 June: Istvan finalized our sponsorship agreement with Alexseal, and I got the logos to post on our website.
21 June: Our graphic designer sent us the first logo concept designs today. We still need to work out the details, but so far they look great! Istvan is busy preparing for his next course.
24 June: Today was Day 2 of 4 for the instructor training course Istvan is leading at SUNY Maritime. I drove in to get some pictures to post online, and Istvan treated me to lunch.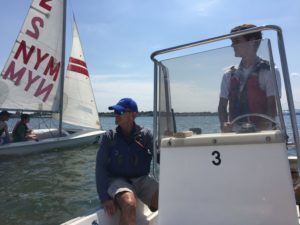 26 June: Istvan finished the last course he has to lead for a while. Now it's back to work on Puffin!
2 July: Today I met Istvan's wife Eva, who is visiting NY from Florida. The three of us had dinner and discussed the next steps in our endeavor. There are still many challenges to tackle, but we are prepared to take them on!